The Birkman Assessment is a keystone to self-discovery in the Bright Futures process. The counselors at Bright Futures integrate their students' Birkman results throughout their customized college planning and application process. Here are some ways you can incorporate it into the college planning process at home.
Major & Career

The Birkman is a treasure trove of highly personalized information that can guide your student as they make decisions – especially when choosing a college major and/or potential career path. A fulfilling career often satisfies an individual's:
Personal Strengths: Talk to your student about when they feel the most appreciated or productive. Where do they feel like they "shine"?
Primary Needs: Ask your student what needs really matter to them right now or have the greatest influence on their mood/mindset. Affirm these needs and help them learn to communicate them more effectively.
High-level Interests: Your teenager still has time and opportunity to delve deeper in exploring interests through volunteering, personal projects, internships, etc – encourage them to do so! A self-aware student is exactly what colleges love to see.
Foundational Values: Give your student a list of values (these range from power to advocacy to freedom) and ask them to pick their top 3-5. Ask them how these values show up in their lives now, or why they are so important.
When reviewing Birkman results, take into consideration how a potential career, major, or work environment would impact/support these components.
Building Healthy Relationships
The Birkman is a wonderful tool for learning how to communicate with others, and helping others understand our own needs, stresses, and interests. If you and your student both have Birkmans, look at the behavioral components that might create potential for conflict or misunderstanding. Talk about how your needs can be met in those areas, and how you might expand your perspective for someone who behaves or expresses needs differently than you. Celebrate the different strengths and interests between the two of you.
This creates a wonderful foundation for the future relationships your student will build. Whether they need to communicate their "work style" with a fellow student or colleague, or compromise on living and social arrangements with a future roommate, the Birkman holds valuable tools and information for every situation.
Living a Balanced Life
A well-balanced life is one that embraces and holds space for happiness, exploration, challenge, growth, change, and productivity. The Birkman can help create this life by encouraging students to learn their:
Interests: Not all their primary interests have to fit into their career. Sometimes hobbies, personal projects, and volunteering can "check the box" for incorporating interests into their life on a regular basis.
Work-style: Learning the environment and pace at which they are most productive is invaluable knowledge for a student.
Blind Spots: Realizing that "not everyone is like you," can help create empathy and understanding. It also points out areas that could benefit from different perspectives and growth opportunities.
Essays & Interviews
Sometimes the most stressful part of the college application process is when a student has to talk about themselves. Whether that is through the main essay, supplemental questions, or interview process, it just feels awkward. However, the Birkman can be a source of validation and affirmation for a student. They can refer to the Strengths page in their Birkman report (see image below) and recall times in their life when they were able to use those strengths. The Interests section could help them identify and articulate their favorite hobbies, classes, and experiences that could be fun to share with an interviewer or admissions reader. The Career Exploration portion might encourage them to share why they feel validated in their pursuit of a particular major/career.
Overall, the Birkman provides students advantageous and rewarding insight that can come in handy throughout their life… beginning with the college admissions process!
Sample pages from a Bright Futures counselor's Birkman… try to guess who! (Hint: She enjoys baking cookies!)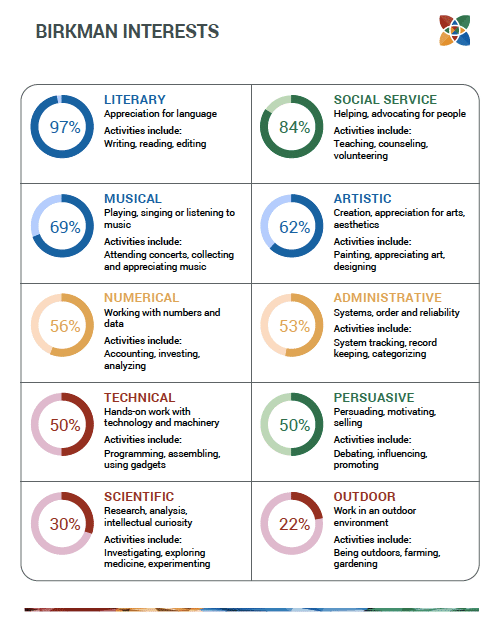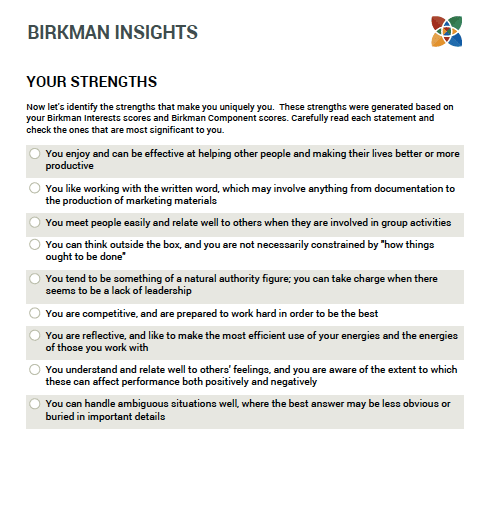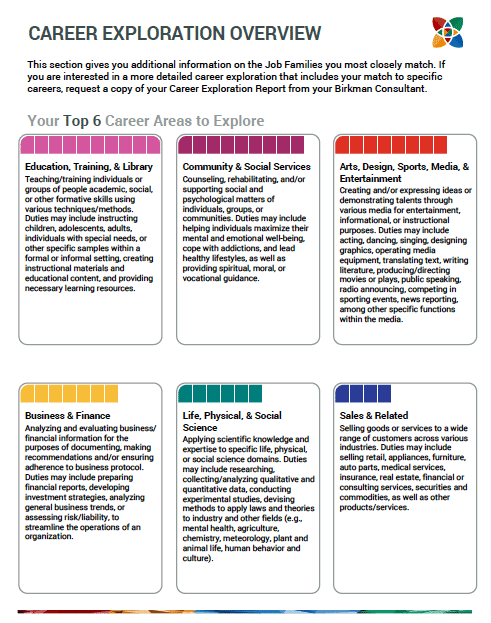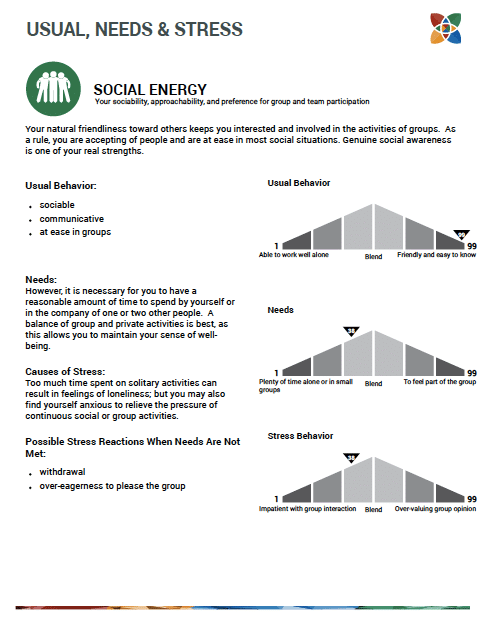 We streamline the college planning and application process (and have a little fun along the way)!