We sat down with College Counselor, Jigisha Doshi (aka "Jigi") and among many things discussed her high school and college experience, her career in textiles, and of course her puppy Gobi.
What was important to you in high school?
My only burning goal throughout my school years was to be the house captain in high school. In order to achieve this goal, I had to be someone who really listened to the students but at the same time was respected by all the teachers as well.
What was your college application process like? 
I clearly remember the day in 6th grade when I told my parents about the college I wanted to go to and that was the ONLY college I applied to after high school. I did not get admission in the first round and I refused to apply anywhere else.
What was your relationship like with your parents in high school?
Today when I look back, I feel my parents gave me a lot of freedom to make my choices and let me follow my dreams.
What were some of your favorite parts of college?
Late nights doing assignments
What were some of your most challenging parts of college?
A long commute every day
What did you love about your major in college?
I majored in textile design and I loved the creative freedom and the endless possibilities that you can have with any design career. Now, in my second career as a college counselor I love how each student is different and I get to again help them create endless possibilities for their careers and dreams.
Person (or animal) most likely to make a guest appearance in a zoom call?
What's your breakfast order?
Avocado toast!!
What is the highlight of your career?
As a textile designer, I got to work with and manage one of the topmost design houses in India.
What was something affirming/surprising about your Birkman?
I was pleasantly surprised how the Birkman affirmed to me that 98% of my interest was in social service which validated my love for volunteering and coaching students.
What are your top 4 interest matches (Birkman)?
Social service, artistic, literary & persuasive
What does your Birkman map look like?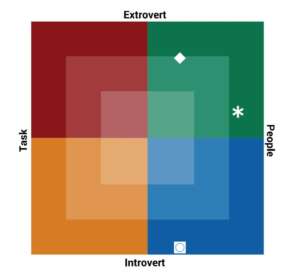 What are some of your most-used emojis?
Are you a morning bird or night owl?
What are you reading or listening to right now?
Currently, I am reading the book called "Being Mortal" by Atul Gawande and listening to "Designing Your Life: How to Build a Well-Lived, Joyful Life" by Bill Burnett & Dave Evans
What is one pieces of advice you like to give to students?
I truly believe in work hard, play hard. I advise my students to give 100% to the work they are doing but at the same time enjoy life to the fullest.