Dear Students and Parents,
I recently published this article and wanted to share it with you personally. Following a student's Birkman, I recommend they conduct informational interviews with professionals that currently work in the top career fields revealed through their Birkman. Read more below about these powerful interviews.
– Dr. Dennard and the Bright Futures Team
Top Tips to Ace Your College, Scholarship, and Career Interviews
by Dr. Beth Dennard
No matter how much technology seems to take over our lives, face-to-face conversations, often in the form of interviews, play a pivotal role in some of our most important life decisions. When the topic of interviews comes up, most high school students think in terms of the requirement to satisfy a portion of a job, school, or scholarship application. Undoubtedly, these interviews are important and one must be prepared to handle them well. But many students overlook an equally important interview opportunity that can help inform future job and school application choices, while also providing an excellent forum for practicing interview skills.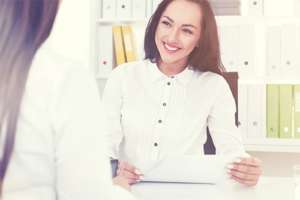 This other type of interview, which can help you choose a college major or even a career field, is called the "informational interview." Informational interviews are typically arranged by the student and are intended to help the student learn more about majors, jobs, workplaces, equipment, and people in fields of interest. I recommend students do this before they decide on their major and career direction.
First we'll look at some general interview tips and then zoom into the specifics of how to conduct successful informational interviews.
How to SHINE: Some General Interview Tips
Whether interviewing for a full-ride scholarship, a job, or simply to network and learn more about a career field, one must SHINE! Practice these skills before any interview, preferably in front of a mirror or during a mock interview with someone you know well.
Smile – it melts tension away.
Highlight your strengths right after a firm, not limp, handshake. Thank the interviewer for the opportunity to learn more about the scholarship/job.
Integrity – be truthful; don't exaggerate your qualifications.
Knowledge acquisition is at the heart of an interview, which means the interviewer will ask questions and the interviewee needs to be ready with question. Even the worst interview may be salvaged with a few keen questions.
Enthusiasm for the organization interviewing you communicates positivity that will set you above and beyond other applicants.
Practice and Learn: How to Conduct an Informational Interview
Now that you have some basic interview tips under your belt, it's time to get out there to experience real interviews and real work settings, and one of the best places to start is with an informational interview. To start the informational interview process, just follow these steps:
Brainstorm jobs and college majors of interest
Generate a list of contacts, friends, and family members in the fields of interest
Set up a time to meet the contacts in their actual workplaces. Visiting the workplace introduces students to real job settings.
Once you've got some interviews scheduled, you'll want to practice your SHINE skills, perhaps with a friend, parent, teacher, or other mentor. It's also a good idea to think about what you want to learn from each person you'll interview with.
Here are five great questions for students to ask during an informational interview:
What do you like and dislike about your work or workplace?
What steps did you take to become qualified for your job and hired, including your college major and college attended?
If you were just starting out, what would you do differently?
What is the average salary range for work in your field?
Could you introduce me to someone else in your field? Get the interviewee's business card or take a photo of it.
Following each interview, write a hand-written thank you note that includes a gracious reminder of their offer to introduce you to someone else in their field. This keeps the ball rolling, ensuring that your interview and application will be remembered by the one interviewing you.
Final Thoughts: Stay Calm and Appreciate the Process
An interview is just a conversation but it can feel intimidating; stay calm, but enthusiastic. With a little bit of practice and some helpful tips, you're well on your way to a productive interview experience. Try to appreciate the process and what you're learning along the way.