There's more than one way to apply to college, and the array of application options confuses most first-time applicants.
Regular deadlines, normally around January 1, give seniors the entire fall semester and winter break to write essays and complete applications, which seems reasonable. This schedule also fits with the rhythm of college admissions: fall is travel season; winter is reading season; spring is when students are notified of admission. However, beware; there are other options that might be better.
College admissions officers know that many of their most highly qualified applicants apply well before the regular deadline. These "early bird" applicants are organized, have completed all required testing, wrote essays over the summer, and sent their completed applications before Halloween. They also had the bonus of learning if they got in before the holidays. So, colleges created a separate deadline for applicants called Early Action (EA) with a deadline typically November 1st. The benefits of applying EA are that students may apply to as many colleges as they like and will typically receive a decision before Jan 1. Decisions may include: acceptance, rejection, and deferred to Regular Decision. Knowing the outcome can make the holidays less tense.
Applying EA demonstrates a qualified applicant's high level of interest, which colleges consider when rendering decisions. However, it isn't the only "early" choice students can make.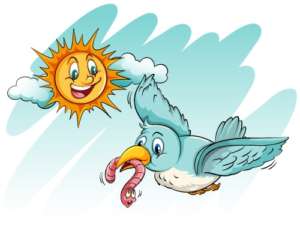 Early Decision (ED) is another option, often confused with Early Action, but vastly different though both share the same deadline, November 1st. Early Decision demonstrates a student's even higher level of interest along with a 100% commitment to enroll (if admitted) and withdraw all other applications. Just like 1 American may cast 1 vote for 1 presidential candidate, the ED option represents a significant decision, not necessarily a strategy.
Many students wonder if they're missing out by not applying to their favorite college Early Decision (ED). Not necessarily. Sometimes when a student is admitted to their "favorite" college early they have some buyer's remorse. It's like asking someone to one's May prom in November. High school seniors are still growing up and changing daily. Still, no one wants to miss out on having the edge. But do ED applicants have the edge?
It depends. I don't advise students apply ED unless they're absolutely sure they plan to enroll and their academic credentials place them at or above historically admitted students. I also advise recruited athletes who have committed to a D-1 or elite university to apply early.
Along with Regular, Early Action, Early Decision, Restricted Early Action there are Rolling Admissions plans. The chart below gives more details on each. Whichever deadline one chooses, seniors need to make sure they submit a completed application by the deadline and make up their minds and enroll in one college by May 1st. Bright Futures helps students be the "early bird", regardless which deadline they choose.
Application Plans – a.k.a. ways to leverage your interest
| | | | |
| --- | --- | --- | --- |
| PLAN | RULES | # OF COLLEGES | DEADLINE DATE |
| Priority | Non-binding – typically the deadline required to be considered for merit scholarships | Unlimited | Normally December 1 |
| Early Decision | Binding contract signed by student, parent and school counselor | Limited to 1 college per student | Apply by November 1 of Senior year |
| Early Action | Non-binding | Unlimited number of colleges per student | Apply by Nov 1, but can be earlier or later, i.e. UT Honors is October 15 |
| Regular Decision | Non-binding | Unlimited | Apply by December 1 for A&M and UT at Austin and most other colleges have January 1 deadline |
| Restricted Early Action | Non-binding but clearly very restrictive | Limited to 1 college per student, may not apply early anywhere else expect in-state colleges | Apply by November 1 |
| Rolling | Acceptances are made continuously throughout the senior year, starting as early as September, once the application file is complete | No limit | No hard deadline, but when the college is full, they may no longer accept applications for that admissions cycle |