Five Friendswood High School students competed at the Texas Science and Engineering Fair in San Antonio on Saturday, April 1.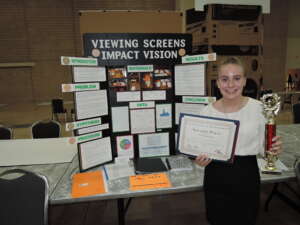 Freshman Aly Knowles placed 2nd in the Senior Division of Behavioral and Social Sciences with Do Electronic Screens Impact Low Light Vision? Knowles also earned a spot in the Governor's Science and Technology Champions Academy. The Academy is a week-long STEM summer camp which will be held at Southern Methodist University.
Senior Sarah Palmer presented Optimizing Micro-geometric Bladeless Wind Turbines and previously qualified to participate in the INTEL International Science and Engineering Fair, which will be held in Los Angeles, CA from May 14 – May 19.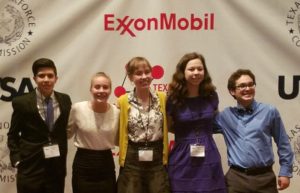 Freshman Lucas Rivera's presented Shocking Soil! Testing Soil for The Presence and Efficiency of Electrogenic Bacteria, freshman Evan Rosenthal's project was titled, It doesn't have to be too late: A novel method of detecting overheating of electrical systems behind walls and senior Madeleine Thompson presented Evaluating an Alternative Food Source to Optimize the Growth Rate and Overall Size of Juvenile Aurelia aurita.